How well do you know your region's distracted driving laws? If one of your drivers is texting behind the wheel, and then causes an accident, do you know what to expect?
It is a proven fact—using cell phones while driving causes drivers to take their eyes and attention off the road, and their hands off the steering wheel. This causes car accidents because:
Driver reaction times become longer (notably braking reaction time, but also 

reaction

 to traffic signals).

Drivers have i

mpaired

ability

to keep in the correct lane.

Reduced attention may cause the driver to follow other cars too closely.

There is an overall reduction in the driver's road awareness.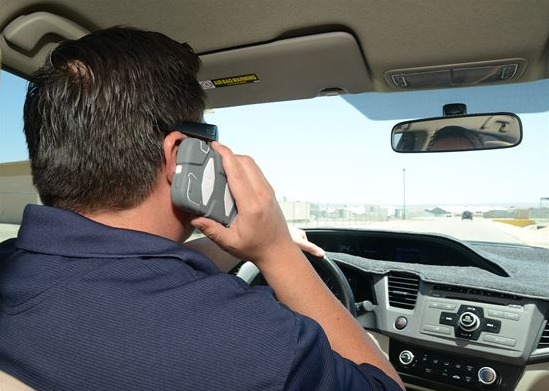 Image source: Edwards Airforce Base
TEXTING WHILE DRIVING: WHAT TO KNOW ABOUT DISTRACTED DRIVING LAWS
One of the most prevalent distractions is texting while driving and seems to have a particularly detrimental impact on driver behaviour. Text messaging is a low-cost form of communication that people use more and more every day - making it a crucial road safety concern.
For the record, young drivers are more likely to use a mobile phone while driving than older drivers. They are also particularly vulnerable to the effects of distraction given their inexperience behind the wheel.
Texting while driving is now a worse public hazard than drunk driving. This results in dangerous to severe accidents.
Motor vehicle crashes cost businesses a lot of money, lost resources, and soiled reputations. The hard facts? On-the-job highway crashes can cost employers:
More than $25,500 per crash

More than $128,000 per injury

More than $500,000 per fatality
As a business owner or manager you need to understand distracted driving laws, and how much an employee driving accident could cost you.
One key item to remember: the owner or manager of the company vehicle will be named in the lawsuit 100% of the time. Why is this? Because companies have what lawyers refer to as 'deep pockets.'
To prevail on a claim, a plaintiff must prove that the other driver was texting while driving, talking on a cell phone, or otherwise acting negligently before the accident. And this isn't difficult to prove with the way cell phone records are kept – quite often linked to GPS data.
If successful, the plaintiff will be entitled to compensation for medical bills, time spent off work, property damage, and punitive damages.
 
How Can You Help Control the Risks of Distracted Driving?
Educate yourself and your employees on distracted driving laws.

Establish a company-wide policy on the use of cell phones when driving.

Roll out that plan through an education based system and have every employee sign-on that they understand the policy and will abide by it.

Implement other technologies to communicate with drivers. Telematics is one that helps with managing fleet availability.

Provide ongoing safety training to your drivers. Knowledge is king. They'll be better drivers who are more efficient, focused and more profitable.
Conclusion
A vehicle accident that is caused by a texting, or otherwise distracted driver can cost your company dearly. The best way to avoid the stress, lost money, and a damaged reputation is through proper education and driver training.
A small and ongoing investment in creating distracted driving policies and educating drivers will go a long way to saving your company money in the long run. 
Article by David Thornton
Managing fleet risk is an important part of your total cost of ownership, but the whole picture is much bigger than that.
Learn about all of your fixed and variable costs in our free white paper below. 
---
FOSS FLEET MANAGEMENT WHITEPAPER
UNDERSTANDING YOUR TOTAL COST OF OWNERSHIP
Reducing your TCO starts with taking control of expenses. Get actionable strategies to reduce ownership costs, save money, and maximize ROI.