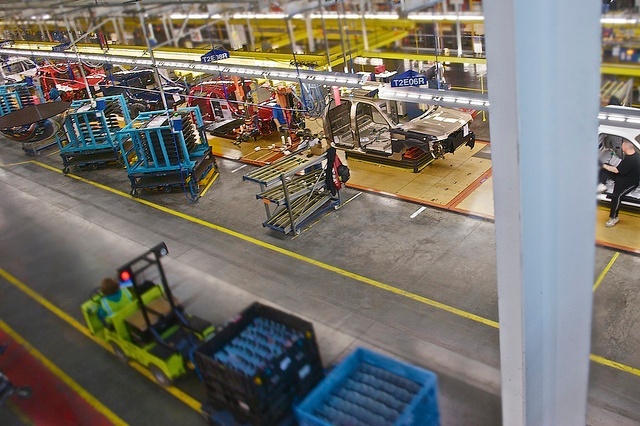 Photo: 
Ford Rouge Factory/flickr
As a fleet manager, you're responsible for keeping your vehicles on the road, but your activities extend much further into the fabric of your organization. The decisions you make have a direct influence on the overall productivity of your company. A fleet manager's position is more important than many people might think and doing things right pays dividends for everyone.
We believe factory orders of fleet vehicles is an important, and sometimes overlooked aspect of fleet management. As such, we'd like to share some tips to improve the order-to-delivery times (OTD) whether you are ordering a small or large fleet of cars, and especially for vans or pickup trucks, ensuring a smooth ride for your fleet all year long.
1. Think about the ordering cycle you are presently using
The timing to sell your current vehicles may suit you, but it might not align with OEM's manufacturing limitations. Many fleet managers order late in the year to take advantage of higher resale values. This puts stress on the manufacturer to meet this influx of orders and causes delays when the vehicles are to be delivered in the spring. The earlier you order, the more likely you will receive the vehicles you need and when.
2. Keep up to date with manufactures' production schedules
You know the types of vehicles you'll be ordering. Find out when these vehicles are being manufactured. All OEM's publish production schedules. Be familiar with their "cycles" to optimize your re-ordering process. If you can't access this information, contact a fleet management provider to assemble this information for you.
3. Be open to changes
Upon reviewing the OEM's production schedule you may discover that your preferred vehicle does not have a production date, or it has changed from previous years to a schedule that doesn't align with your remanufacturing cycle. You may be forced to consider alternate models. Who knows, this may be a blessing in disguise as other models sometimes improve performance.
4. Lead times are critical
Vehicle production varies from year to year and make to model. We believe it is critical to understand the production times. If you have special needs or if your fleet is turning to vans or trucks to be upfitted, you'll need to include that time allowance into the delivery cycle. And finally, if your company's policy allows for driver ordering, then you'll need to include the time for your drivers to participate in the process. Padding more time is always better.
5. Consult a fleet management professional
OK, it may sound a bit self-serving, but get professional advice from a fleet management provider. If you don't have one, it might be time to work with one. Foss National Leasing has a team ready to provide strategic consultation for the ordering, scheduling and the OEM production process. FMC's do this type of work every day and can inform you of production issues not yet made public and can analyze your fleet to make recommendations for a replacement strategy that best suits your needs. Plus, they might even buy you a cup of coffee. The advice you'll receive over a coffee may have lasting influence on your fleet's performance.
There is a lot to consider for improving the OTD for fleet vehicles. Do you know of any other tips that you can share? Feel free to comment in the space below and share this article with other interested colleagues.
---
FOSS FLEET MANAGEMENT WHITEPAPER
NEED TO BUY FLEET VEHICLES? FACTORY ORDERING BENEFITS
How can fleet management companies help you eliminate dealer markups? Download this guide now to find out and get your free copy!